Do You Want to Totally Dominate Your Industry and Local Market?
Shea / 09 June / Comments Off on Do You Want to Totally Dominate Your Industry and Local Market? / 132
---
TOTAL MARKET DOMINATION
We have finally  posted our long awaited 4-CD audio program "TOTAL Market Domination" and if you haven't heard it yet and you are committed to being the BEST company in your industry and local market, you owe it to yourself to listen to the entire set.
There is enough business in your market right now that you could easily triple your revenue in the next year.  Please pay close attention for the next several minutes because I am going to share some eye-opening information that can totally change the future of your business.  I'm not blowing smoke.  It's the real deal and I'm going share some very specific information that will sincerely provide you the opportunity to double or even triple the revenue for your local business this year. 
Here's the shocker: Everything you have ever learned about marketing is erroneous… it's wrong. 
I'm going to walk you through the ten point marketing system named "The Total Market Domination Program" that will give you such an advantage over your competition that you will totally dominate in your local market.  However, before I explain each of the ten points in The Total Domination Program, I'd like to take just a minute or two to explain to you what makes Strategic Marketing Consultants truly unique amongst marketing agencies and why it matters to you. 
Here's what you need to know before we dive in.  Do you know the difference between Strategic Marketing vs. Tactical Marketing? 
Strategic Marketing has to do with what you say, how you say it and who you say it to.  In other words, it's the content of your marketing message. 
Tactical Marketing is the execution of your strategic marketing plan as far as generating leads, placing media, creating marketing tools and implementing a follow-up system.  In other words, it's the medium your message is delivered in. 
The distinction between Strategic and Tactical Marketing is huge.  Most people mistakenly assume that when you talk about marketing that you're automatically talking about Tactical Marketing – placing ads, generating leads, sending out mailers, attending trade shows, creating brochures, implementing a follow-up system and so forth.  They fail to realize that the strategic side of the coin – what you say, how you say it and who you say it to – is nearly always MORE important than the marketing medium WHERE you say it. 
However, what I want to share with you today will help you become more proficient in BOTH of these areas.
You can access our podcast here:  The full 4-CD set is combined into one single file TOTAL MARKET DOMINATION
Additionally you can download each individual track from the following list.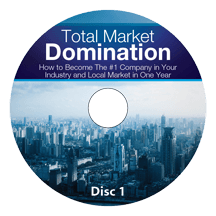 Track 01: Introduction to Total Market Domination
Track 02: Strategic Marketing Program
Track 03: The Two Most Common Marketing Mistakes
Track 04: Focus and History of Advertising
Track 05: Educational Spectrum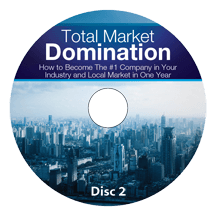 Track 06: Comprehensive System
Track 07: Component No. 1 – Identity
Track 08: Introduction to The Strategic Messaging Formula 
Track 09: Capture
Track 10: Connect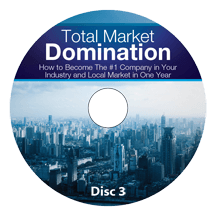 Track 11: Educate
Track 12: Incentivize
Track 13: Automate
Track 14: Comprehensive Internet Marketing Suite
Track 15: Systematized Sales Process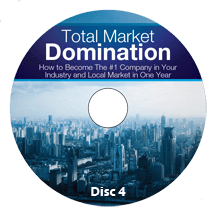 Track 16: Professionalized Image
Track 17: Business Innovation
Track 18: Applied Business Innovation
Track 19: Strategic Marketing System Summary – NEXT STEPS
---